Services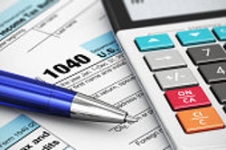 We offer everything our competitors offer without the insane prices. Such as the preACK Easy Advance. This product allows for customers to receive a portion of their refund from early January to opening day sometime in February. I also offer the Easy Advance Plus where customers receive $500.00 to $6,000.00 of their refund which takes place from opening day to middle March. Finally, I offer a 10-14 day RT (refund transfer) which is where you pay nothing upfront & your fees are taken from your refund check. That is offered all season long. We have re-loadable credit cards, checks, and direct deposit available for all our clients.
As always you can choose to skip the bank products and their fees and pay only your fees directly to us and still receive your refund via direct deposit or paper check from the IRS.
We accept cash, check and debit/credit cards for your convenience.
We offer a convenient store location (812 E. National Rd. Vandalia, OH 45377), drop-off services and In Your Home services, if you feel like we are too far to drive to then please call us and we'll come to you!
Tax Preparation Services Offered:
1040EZ
1040 (long form)
1040A
1040NR
1040X
1065 (small business)
All State Returns
We are super competitive so if you find a lower advertised price from a national competitor we'll beat it.